HAIR
WAGNER COLLEGE
"…a stellar, lunar and solar production of this epic making, early rock musical.  This production is directed and choreographed by a fellow named, Darren Lee who has some major Broadway and professional credits, but nothing prepared me for his amazing, brilliant work here as director and choreographer… This is the 50th anniversary of the Broadway production of Hair… I imagine we'll be seeing other productions of it, but if this is the only one I see in the 50th anniversary year I will consider myself very happy.  Just about as good as it possibly can get for college theater and really any theater.  Theater at any level.  Just superb."
Michael Portantiere (BroadwayRadio.com)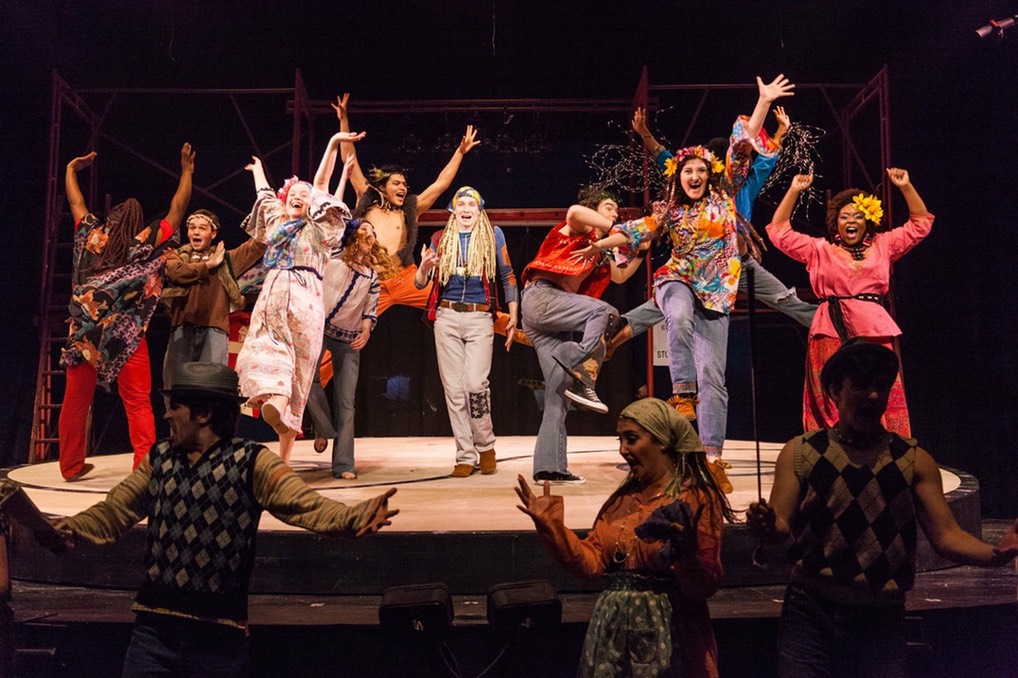 CHICAGO
RIVERSIDE THEATRE, THE LITTLE THEATRE ON THE SQUARE
"I have seen "Chicago" staged several times at various venues, but believe the current presentation, directed and choreographed by Darren Lee, is the best ever.
Herald and Review
"Brilliantly choreographed..Darren Lee turns in rich, fun, sexy and character-driven choreography that both challenges his performers and sets them loose with bawdy, foot pounding, body flinging movement. Indeed, he doesn't let a moment go by without infusing it with attitude and style."
Florida Today
"Choreographer Lee knows the show well, having appeared in it on Broadway and in the Oscar-winning film. He pays homage to Fosse with a few of his signature steps, but moves away from the more extreme splayed, hunch-shouldered, tush-twitching dance vocabulary. That does not stop him from building such athletic show stoppers as the tone-setting Cell Block Tango, the frenetic We Both Reached For the Gun and the mock salute to motherhood, Me and My Baby."
Palm Beach Post
ONCE ON THIS ISLAND
OLNEY THEATRE CENTER
The opening number is "We Dance," and Darren Lee's African-Caribbean choreography keeps the show appealingly on the move through ritual incantations and the inevitable ball...Ti Moune's dance solo at the ball is the most impressive moment of the night.
Washington Post
SOUTH PACIFIC
OLNEY THEATRE CENTER
"choreographed with showmanship and panache by Darren Lee…Broadway dancing on excellent display"
MD Theatre Guide
VICTOR VICTORIA
OGUNQUIT PLAYHOUSE
"The supporting cast of dancers and razzle-dazzle choreography by Darren Lee are an enthralling highlight, particularly in such precisely executed numbers as "Le Jazz Hot."
Maine Today

MISS SAIGON
ST. LOUIS MUNY, MUSIC THEATRE OF WICHITA, PAPERMILL PLAYHOUSE
This is a terrific show and Darren Lee's choreography and direction is stellar. "The Morning of the Dragon" and "Kim's Nightmare" come off as pure spectacle in their execution. 
KMOX Radio
...will probably be the most memorable show of the season-certainly it will be the most powerful, disturbing and haunting...but thanks to the sensitive direction and storytelling choreography of Darren Lee, the tale's intimacy and humanity are never overwhelmed. 
Wichita Eagle
Darren Lee's choreography for "The Morning of the Dragon," the "Dreamland" brothel sequence and the previously noted "American Dream" is such a treat that it warrants a second visit.
 Variety
THOROUGHLY MODERN MILLIE
DIAMOND HEAD THEATRE
This season-opener for Diamond Head Theatre, directed and choreographed by Darren Lee, manages from the opening curtain to do everything right. 
The Honolulu Advertiser 
HERRINGBONE
LA JOLLA PLAYHOUSE, WILLIAMSTOWN THEATRE FESTIVAL, McCARTER THEATRE, DIXON PLACE
Choreographer Darren Lee both honors and critiques America's choreographic past in routines like "Little Mr. Tippy Toes," revealing the flair and flop-sweat to which all dancers are prey. 
Variety
The quirky show, set during the Depression, has 14 musical numbers, and choreographer Darren Lee has created a waltz, a tango and something he calls the frog shuffle, as well as tap-dance licks. Lee's influence on the production goes significantly beyond coming up with dance steps, however. In "Herringbone," every movement is choreographed.
San Diego Union-Tribune
KISS ME KATE
GLIMMERGLASS OPERA
KISS ME KATE is darned hot! Ensemble work and choreography by Darren Lee were uniformly excellent. 
The Albany Times
THE MUSIC MAN
OREGON SHAKESPEARE FESTIVAL
The choreography by Darren Lee, in his first season with OSF, is exciting and energetic and excellently performed. Especially lively is the outrageous new dance called "The Shipoopi." 
Ashland, Daily Tidings
The rousing singing, dancing and staging of the "Wells Fargo Wagon" for the act one finale will have you begging for more and it is provided in act two. 
TheatreWorld
https://www.facebook.com/olneytheatre/videos/485555251943851/